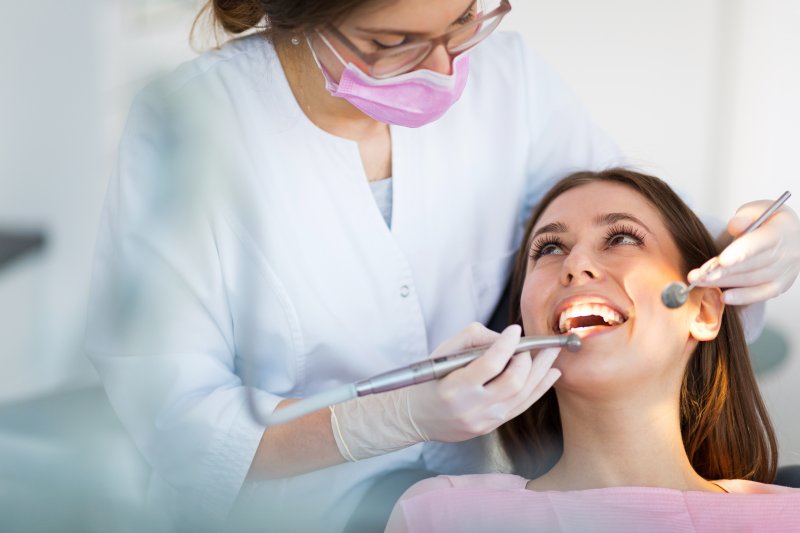 You've likely heard of the importance of routine dental checkups for maintaining a bright and healthy smile. But are they really necessary, especially if you brush and floss your teeth daily? Although many people perceive these regular visits as simple sweeps for cavities, they play a major role in preserving both your oral and overall health. Read on to learn five things that your dentist does that are crucial for protecting your pearly whites!
#1: Removing Plaque and Tartar
Once your dentist is finished with your routine checkup, they'll typically polish your teeth before you leave. During this cleaning portion of your appointment, your dental team will focus on removing stubborn debris, plaque, and tartar from your smile. On top of helping to freshen your breath, this will effectively minimize your risks of developing more serious oral health issues like decay and gum disease.
#2: Assessing Your Bite Alignment
Even if your teeth are healthy and shiny, their position in your mouth can affect your oral health and how well you can take care of it. For this reason, your dentist will check your bite alignment to determine if you'll require additional treatments, like Invisalign. If your teeth and jaw don't line up properly, it can lead to indigestion, cause deficiencies in your nutrition, and wear down your smile over time.
#3: Evaluating Your Temporomandibular Joint
Aside from your pearly whites, your dentist will also take a look at your temporomandibular joint, which is what connects your jawbone and skull. Should there be any inflammation or misalignment, you may be at risk of various complications down the road, such as clicking when chewing and chronic jaw pain. By assessing your jaw routinely, your dentist can provide any necessary treatments to address issues they might detect early on.
#4: Checking Any Existing Restorations
Do you have tooth replacements like crowns, dental bridges, dentures, or even veneers? During your checkup, your dentist will monitor your restorations to ensure your results are in pristine condition. If they're damaged, cracked, or loose, they can provide the proper care to fix the issue before it becomes a dental emergency.
#5: Testing for Oral Cancer
One of the most important ways to prevent or treat oral cancer is to address the signs during the early stages. By performing a screening during your routine visits, your dentist can detect any indications and treat them before they can worsen. This process is thorough and quick, so you might not even notice when they do it!
For these reasons, routine dental checkups are extremely important for protecting your oral and overall health. Speak to your dentist if you'd like to set up an appointment, and they'll be more than happy to help preserve your smile.
About the Author
Dr. Molly Burton studied at the University of Louisville and has been delivering outstanding care for nearly a decade. She also regularly seeks continuing education to advance her techniques so that her patients receive the best treatment they deserve. She provides a wide selection of high-quality and comprehensive services, including dental checkups/cleanings and emergency dentistry. If you'd like to schedule a visit, check out her website or call 512-441-2098.