Dentures – Austin, TX
Fill Out Your Smile by Using Dentures!
Missing teeth almost always prove to be a challenge. After all, the gaps they make in your smile tend to have nasty long-term effects. Fortunately, you don't have to put up with them — dentures in Austin can easily solve the problem! In particular, we at Magnolia Family Dentistry of Austin offer ones that restore all sorts of smiles. If you'd like to learn more about these prosthetics, just keep reading or call our team to book a consultation visit.
Who's a Good Candidate for Dentures?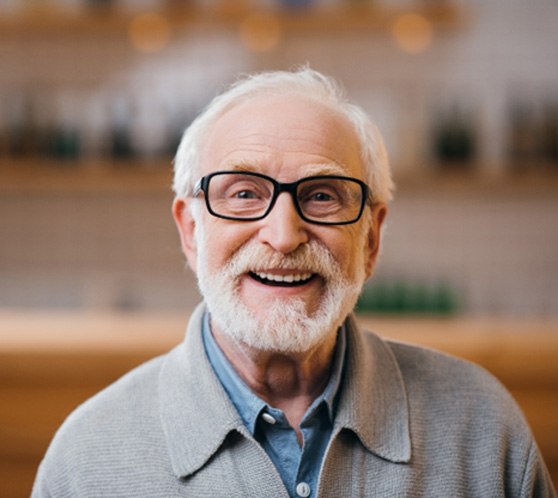 You may have friends or family members that benefitted from wearing dentures, but are they the right choice for you? That's a question that will likely be on your mind after losing any number of teeth. Our team at Magnolia Family Dentistry of Austin can help determine your dental needs and explain whether dentures are a viable choice for you based on the state of your mouth and the overall health of your jawbone and your gums.
Effects of Missing Teeth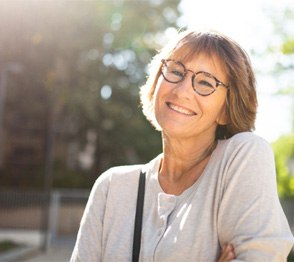 You never want to end up in a situation where some or all of your teeth are missing (although it may be unavoidable in certain circumstances, such as advanced gum disease). An incomplete set of teeth makes it harder to chew, and you may not be able to speak as clearly as you used to. Also, many people appear older after tooth loss due to their facial features sagging.
The consequences of tooth loss only become more pronounced the longer the gaps in your smile are left alone. Replacing missing teeth with dentures (or another type of dental prosthesis) is the ideal choice if you want to protect your oral health. As such, as soon as you realize that a tooth has been lost, you should give our office a call.
What Qualifies You for Dentures?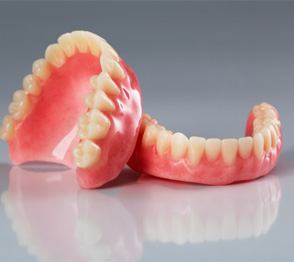 Dentures are recommended for cases of "extensive" tooth loss. This usually refers to situations where either there are several gaps in a single arch or all of the teeth in the jaw are missing.
Before you can receive dentures, we'll need to check your mouth to make sure that your jawbone and gums are in good shape. Also, if the teeth that require replacement are still in your mouth, they will need to be extracted before we can begin the denture process.
It's important to note that there are different kinds of dentures you might qualify for. After a thorough examination, we'll let you know whether a partial denture or a full denture would be the best choice for your smile as well as whether it would be possible to attach your replacement teeth to dental implants.
Alternative Tooth-Replacement Options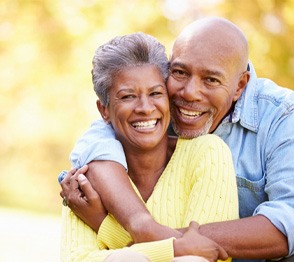 It may be that you visit our office for a consultation only to find out that you are not a good candidate for dentures. The good news is that there are other ways you can replace missing teeth, and we'll be sure to walk you through these options.
In cases where you have only lost one tooth or at least two consecutive teeth, we might suggest a dental bridge. This dental prosthesis can be anchored to two of your remaining teeth to completely fill the empty space in your smile. (Naturally, we'll need to confirm that the teeth in question are in good enough shape for the job.)
If you're interested in getting dental implants to replace your missing teeth, we can refer you to a highly qualified oral surgeon for the procedure.
Types of Dentures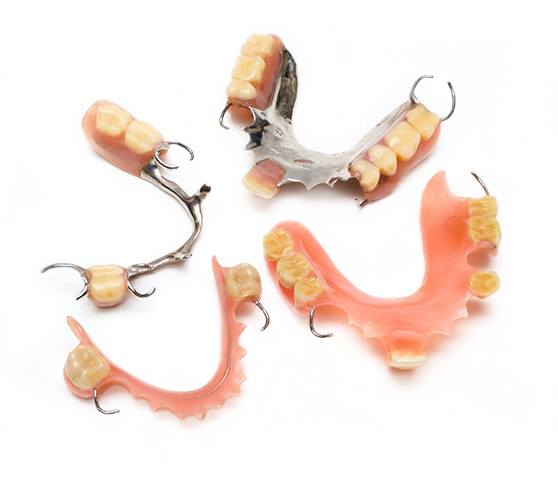 When getting your restorations, you'll first need to consult with Dr. Burton about your tooth loss. That way, our team can decide on the best type of denture(s) for you. We'll likely recommend one of the following:
Partial Dentures
You may simply need a partial denture if you're only missing a few pearly whites in a row. The latter secures itself to your mouth by clasping to your adjacent teeth. Fortunately, its gum-colored base helps it blend seamlessly with the rest of your smile.
Full Dentures
Full dentures are for patients who need to replace an entire arch of teeth. As such, they don't clasp to your other teeth but hold in place with suction or adhesive. Furthermore, each has a highly-customized base to ensure they fit comfortably over your gums.
Implant Dentures
If you need a more permanent and stable option, your best bet is implant dentures. Unlike partial or full ones, they're connected to dental implants that fuse with your jaw. As a result, they don't slip or fall out of your mouth. Plus, they have the unique ability to restore more of your bite force. In other words, they'll let you eat your favorite meals again!
How Dentures Are Made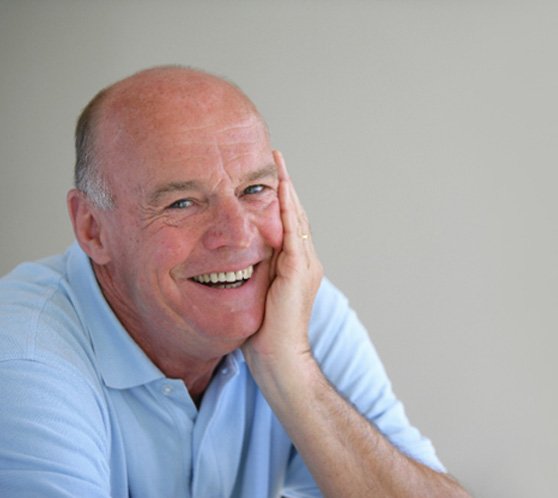 Your dentist may recommend you for dentures if you are missing one or more teeth. Should this be the case, you're likely to wonder how they are made. Knowing what is required to fabricate your new teeth will help you to appreciate the care and consideration taken by professionals to create a customized partial, full, or implant denture that you can be proud to wear.
What Are Dentures Made Of?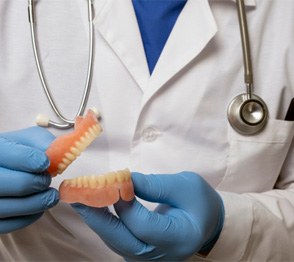 Two parts make up a full or partial denture – the base and the artificial teeth. Below is a breakdown of what each requires to ensure successful results.
The Base – Commonly made out of acrylic, many dentures' bases can be crafted from nylon, resin, porcelain, or metal. They mimic the natural shade of your gum tissue so that they blend in seamlessly. When crafting the base of a partial denture, you'll find there are often metal clasps that attach to healthy teeth so that it remains firmly in place. It's also possible that these solutions are crafted from nylon, not acrylic.
Artificial Teeth – The artificial teeth that will rest on top of the base will maintain a natural appearance. Using either resin or porcelain, you can expect that your new smile will look beautiful and feel comfortable. Although these do not contain nerve endings like regular, healthy teeth do, they can last many years and withstand much wear and tear.
The Denture Creation Process
No two dentures are exactly alike. The reason is that each one is custom-made according to a patient's needs. When discussing your new teeth with our team, you can expect that we'll go over the multi-step process that is required to create your natural, beautiful smile.
After your dentist captures impressions of your smile, a replica will be crafted of your smile so that the necessary size and shape are determined. Once sent off to a dental laboratory, the cast is turned into a wax version of the gumline. Your artificial teeth are put into place on top of the denture, and a mechanical device (articulator) helps to attach them with wax. After making minor adjustments to the wax, it will be used to create your final dentures.
After a fitting with your dentist, your dentures will be sent back to the lab to finish the creation process. During this time, you'll be required to wear temporary dentures.
Through a process of boiling the wax dentures, using plaster to create the shape of your new teeth, and eventually injecting acrylic to replace the wax, any plaster is removed so that the denture can be revealed. Removing any plaster with an ultrasonic bath, extra acrylic will be removed before it is returned to our dental office.
Adjusting to Your New Dentures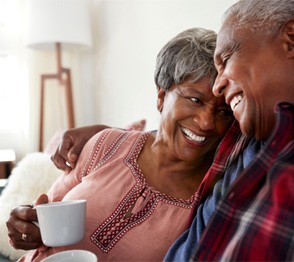 Don't be surprised if it takes a bit of time to adjust to your new dentures. Attempting to speak or eat in the beginning might be difficult; however, with continual practice and starting with soft foods, you'll find it is much easier to adjust to your new prosthetic. Over time, your gums, cheeks, and lips will become familiar with this new addition, allowing you to speak more clearly and eat denser foods with the help of adhesives.
Benefits of Dentures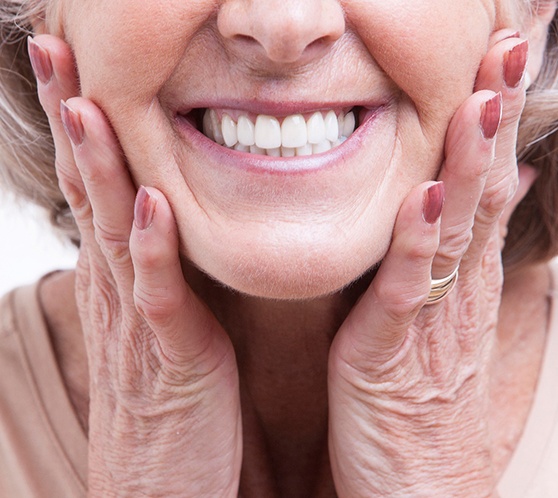 When you're missing most or all of your teeth, things that you once found simple can become difficult. This includes eating your favorite foods and speaking on the phone. Fortunately, this doesn't have to be permanent. Dentures are a life-changing tooth replacement option because of the restoration's ability to improve quality of life! Here are just some of the incredible benefits you can experience when you opt for dentures.
Psychological Benefits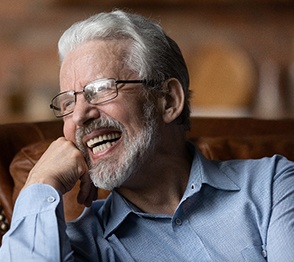 People who don't have any teeth often have difficulty accepting tooth loss. Along with this comes effects on self-esteem and social life. By restoring the appearance and function of one's smile with dentures, patients are likely to experience an increase in their confidence and self-esteem. Dentures are able to reduce anxieties about appearance, speech articulation, chewing ability, and more!
Clearer Enunciation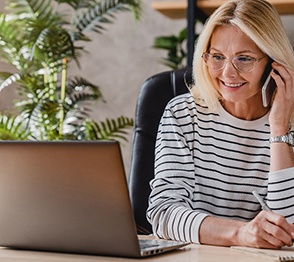 Missing teeth can make it a lot more difficult to speak clearly. In order to pronounce and perform words, your lips and tongue need to be positioned properly. Without being able to touch your tongue to your teeth, some sounds and words are challenging to say. Because dentures act as missing teeth, they allow you to enunciate more clearly. After just a short adjustment period, speaking will come naturally!
Improves Nutrition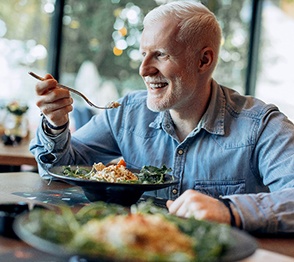 Lots of nutritious foods are tough in texture. This includes veggies, fruits, and healthy proteins. Being unable to eat healthy foods can lead to indigestion and malnutrition. By improving your ability to chew with dentures, you can enjoy a more expansive diet full of nutritious food items. Ultimately, dentures can help the body to receive the essential nutrients it needs to thrive!
Preserves Oral Health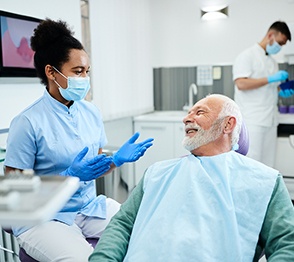 If you still have some natural teeth, dentures can help to keep them from shifting around. Dentures also bear some of the weight of regular chewing, reducing the wear and tear of the existing teeth.
Expands Opportunity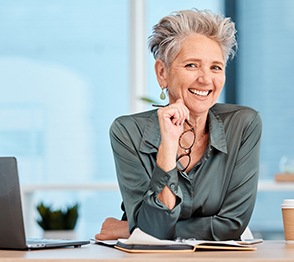 Your smile is one of the first things people notice about you. For job interviews, sales, and promotions, it's crucial that you are making an excellent first impression. Having a beautiful, healthy-looking smile is certainly an advantage!
Denture Aftercare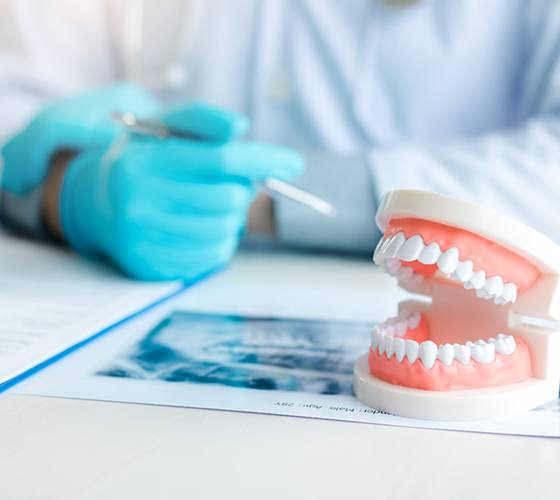 Generally, dentures are highly effective tooth replacements. You can trust them to restore your full smile's looks and function! Even so, these facts don't mean you should give up on oral care. Dentures need consistent care and a healthy mouth to work. Otherwise, the prosthetics will cause more issues than they actually solve. Luckily, though, we at Magnolia Family Dentistry can help: Below are some vital tips on caring for dentures in Austin. To learn about them, keep reading or call us for the details!
Removeable Dentures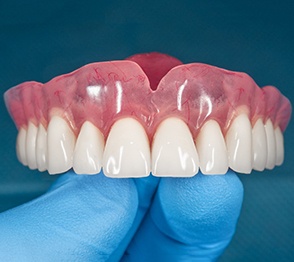 Remove After Eating
As best you can, always remove and rinse your dentures after a meal. This habit stops harmful food debris and plaque from building up. As a result, your mouth is less likely to have oral problems.
Furthermore, don't use any hot water for these post-meal rinses. High-temperature liquids can warp denture material. In other words, a hot water rinse could distort your denture's fit.
Clean Your Restoration
While rinsing dentures after meals is good, you must also clean them once daily. Doing so removes harmful bacteria that cling to the appliance over time.
It doesn't take much to perform these denture cleanings. Once the restoration is out of your mouth, brush it with a soft-bristled toothbrush and hand soap. Don't include toothpaste in this process, though, as the product's abrasive nature damages dentures.
After the brushing, soak your dentures in a cleansing solution as time allows. You should then rinse the appliances before putting them back in your mouth.
Keep Your Dentures Safe
Make no mistake: dentures can and do break from excessive force. After all, they aren't invincible or invulnerable. That being the case, you should do what you can to protect them.
Several methods can keep dentures safe. The first is to use a towel during cleaning, as the cloth cushions your restorations from falls. Alternatively, another approach is to store your dentures away from kids or pets. By doing so, you'll keep the prosthetics away from rough handling.
Remove Dentures When You Sleep
As lifelike as they can be, you shouldn't wear dentures at all hours. Rather, you ought to remove them before going to bed. You could even place them in a soaking solution overnight.
The reason for this suggestion is that constant denture use is harmful. Wearing the prosthetics overnight restricts gum circulation, leading to soft-tissue irritation. It also increases your mouth's plaque levels, not to mention your risk of catching pneumonia.
Notice Changes
When wearing dentures, watch for changes in them and your mouth. It's best to address such shifts with your local dental practice.
In particular, see a dentist if your dentures fit poorly or get damaged. A self-imposed DIY fix will make things worse. On the other hand, a dental professional will refit or even replace the restorations.
All-on-4 Dentures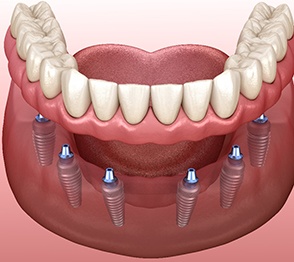 Since they use dental implants, All-on-4 dentures have unique care steps. These include the following:
Daily Mouth Rinses – To prevent the growth of tartar, rinse your mouth with mouthwash daily.
Clean the Between Spaces – Use a sulcus brush to clean between the restorations and your gums. (This kind only has one-third the width of normal toothbrushes.)
Twice-Daily Brushing – As always, brush your dentures twice daily with a soft-bristled toothbrush and appropriate toothpaste.
Once-Daily Flossing – Whether with traditional floss, threaders, or a water flosser, floss your dentures once a day.
Understanding the Cost of Dentures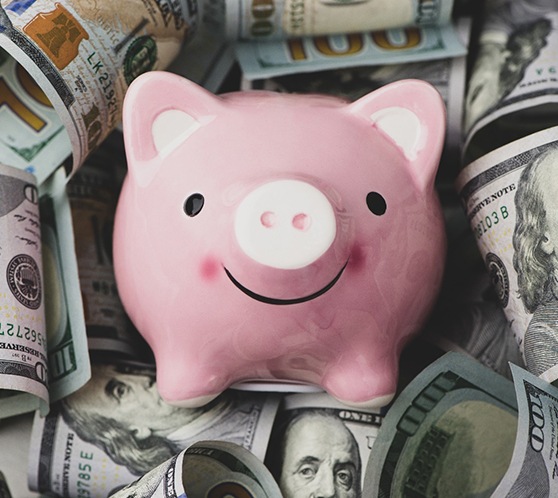 Just like any other dental restoration, the cost of dentures will vary from person to person based on a variety of different factors. There are all sorts of things that contribute to the price. During your initial consultation, we'll be able to determine exactly how much your new restoration will cost. Until then, here are some things for you to take into consideration.
Factors that Affect the Cost of Dentures
There are a few main factors that will contribute to the cost of your dentures.
The preparatory work that you need before you're able to get your restoration will contribute to the overall cost. This includes gum disease treatment and tooth extractions.
The materials to create your dentures, like acrylic and porcelain, will affect the cost.
The number of teeth that you are needing to have replaced has a direct relationship to the cost. Usually, the larger the restoration, the more you can expect to pay.
Remember that cheaper dentures don't mean better dentures. When you opt for budget dentures, you are much more likely to require frequent repairs and replacement. When you invest in a quality restoration, you will notice the difference.
Are Implant Dentures More Expensive?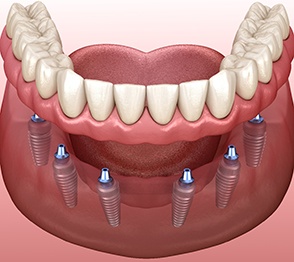 Implant dentures cost more than traditional dentures, but there is a good reason for it. Instead of being supported by the shape and suction of the mouth, implant dentures are held into place by a series of dental implants that are placed into the jawbone via a surgical procedure. This allows for many additional benefits, like being more lifelike and having additional stability. You don't need to replace them every 5 to 7 years either. Dental implants are made to last for several decades.
Does Dental Insurance Cover Dentures?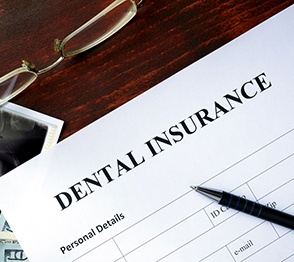 In most cases, you can expect some level of coverage for dentures. Many insurance plans cover up to 50% of your treatment, but this varies depending on the plan that you have. We are more than happy to file claims on our patients' behalf so they're able to get the most out of their benefits. To learn how you'll be covered, just give us a call.
Other Options for Making Dentures Affordable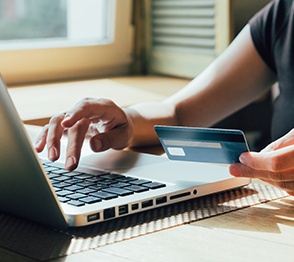 If you don't have dental insurance, this doesn't mean that you will be left completely on your own. We work with CareCredit – a third-party financing company that can split the cost of your treatment into manageable monthly installments with little to no interest. Talk to one of our friendly team members to learn more.
To find out exactly how much you can expect your dentures to cost, schedule a consultation with us. We're eager to help you complete your smile!
Denture FAQs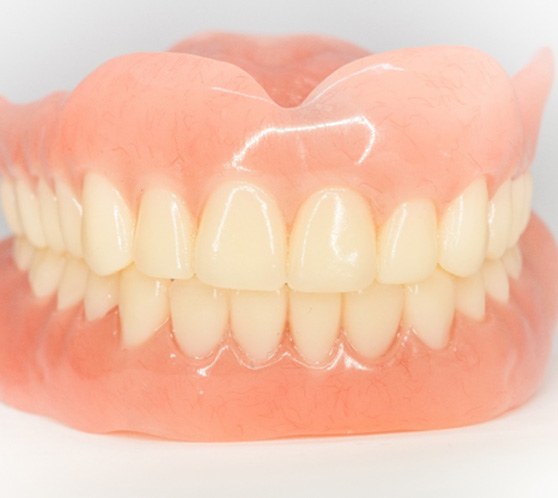 Getting dentures is a major change, so it only makes sense that you would want to learn more about them before agreeing to the process. To help you find the information you're looking for, we've put together a list of some of the questions we've often received from patients who are considering dentures. Of course, you may have a few questions that aren't listed here, so don't be shy about reaching out to our office and speaking to one of our helpful team members.
What is the Average Age for Dentures?
Losing permanent teeth is not actually part of the aging process. However, it does tend to affect older adults more often due to long-term oral health issues. Statistics show that tooth loss occurs in about 66% of adults in the 40 to 64 age range; in contrast, only 33% of those between the ages of 20 to 39 have a missing tooth or missing teeth.
Roughly 57% of people who are 65 to 74 years old use dentures of some kind. However, no matter what age you are, dentures can be a potential solution for extensive tooth loss.
Why Do My Dentures Smell?
Some patients find that their dentures start to develop an odor over time. This is normally due to bacteria and food particles accumulating in the restoration's numerous nooks and crannies. To avoid this problem, we suggest taking the following steps:
Use a soft-bristled toothbrush to clean your dentures every day.
Brush your entire mouth to keep bacteria levels under control. Make sure that you're regularly cleaning your gums, your tongue, your cheeks, and your palate.
Take your dentures out at night and leave them in a disinfecting solution. This will get rid of harmful bacteria and also ensure that your restoration stays moist while you're not using it.
After every meal, rinse off any food particles that might still be clinging to your dentures.
Can I Use Regular Toothpaste to Clean My Dentures?
This normally isn't recommended. While you should brush your dentures regularly, the process should not involve toothpaste. The issue is that many kinds of toothpaste use abrasive ingredients to make them more effective for removing plaque. As such, cleaning dentures with toothpaste can result in microscopic scratches on your prosthetic teeth. This might not seem like a major issue, but in the long term, it can lead to serious damage. Thus, you should always use denture cleanser to brush your dentures instead.
Can I Claim Dentures as an FSA or HSA Expense?
Yes, you can use both flexible spending accounts (FSAs) and health savings accounts (HSAs) to help pay for your dentures. Be mindful about the specifics of your account, however; an FSA will typically only offer a certain amount of coverage each year.
If you have an FSA or HSA, one of our knowledgeable team members will need to check your account to make sure that dentures are eligible for reimbursement as well as what level of coverage is available.