Dentures – Austin, TX
Fill Out Your Smile by Using Dentures!
Missing teeth almost always prove to be a challenge. After all, the gaps they make in your smile tend to have nasty long-term effects. Fortunately, you don't have to put up with them — dentures in Austin can easily solve the problem! In particular, we at Magnolia Family Dental offer ones that restore all sorts of smiles. If you'd like to learn more about these prosthetics, just keep reading or call our team to book a consultation visit.
Who is a Good Candidate for Dentures?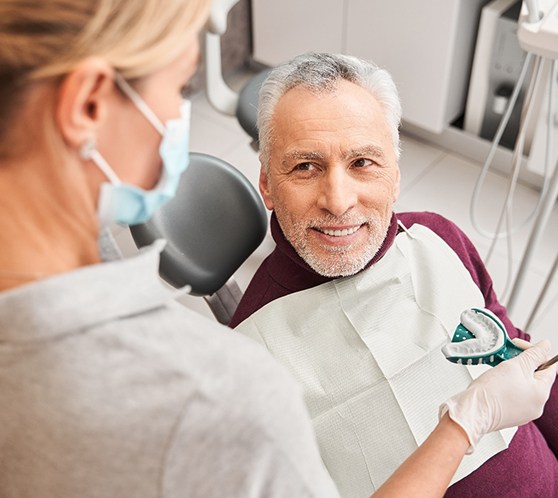 When it comes to denture candidates, the ideal ones have severe issues due to tooth loss. Such complications can include:
Difficulty speaking
An inability to chew or otherwise eat tough foods
Lowered self-confidence and body image
That said, keep the specifics of your situation in mind. You may benefit more from, say, bridges or implants if you aren't missing all the teeth along your arch. Plus, dentures require healthy gums to work well.
Types of Dentures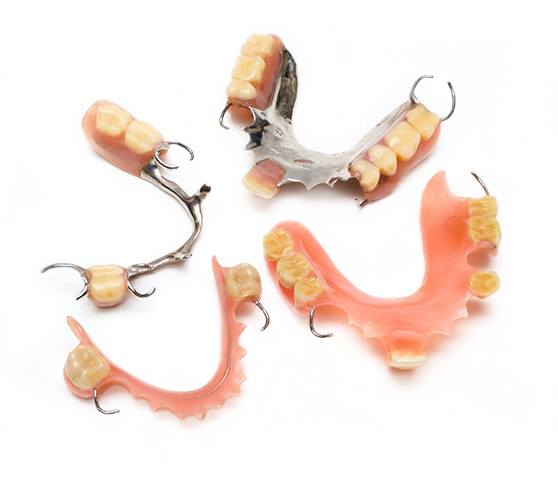 When getting your restorations, you'll first need to consult with Dr. Burton about your tooth loss. That way, our team can decide on the best type of denture(s) for you. We'll likely recommend one of the following:
Partial Dentures
You may simply need a partial denture if you're only missing a few pearly whites in a row. The latter secures itself to your mouth by clasping to your adjacent teeth. Fortunately, its gum-colored base helps it blend seamlessly with the rest of your smile.
Full Dentures
Full dentures are for patients who need to replace an entire arch of teeth. As such, they don't clasp to your other teeth but hold in place with suction or adhesive. Furthermore, each has a highly-customized base to ensure they fit comfortably over your gums.
Implant Dentures
If you need a more permanent and stable option, your best bet is implant dentures. Unlike partial or full ones, they're connected to dental implants that fuse with your jaw. As a result, they don't slip or fall out of your mouth. Plus, they have the unique ability to restore more of your bite force. In other words, they'll let you eat your favorite meals again!
The Benefits of Dentures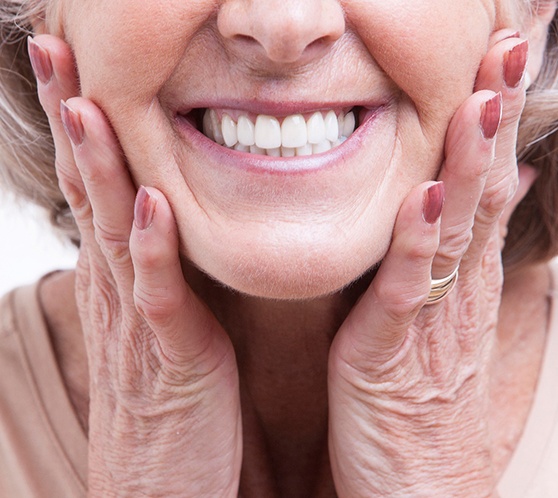 When you get dentures from our Austin practice, you'll experience a variety of perks. Some of them are:
Lifelike Results: Since each denture is custom-made, your results will look quite natural. In fact, most won't know the difference between your prosthetic and your natural teeth!
A Youthful Face: In some cases, dentures can prevent facial collapse. Implant ones, especially, stop the bone loss that contributes to it.
Better Eating: By getting dentures, you'll have an easier time eating tough foods. Consequently, you're more likely to have a healthier diet.
Cost-Effectiveness: Dentures are fairly affordable and can last 5 to 7 years with proper care. As such, they represent a good investment in your oral health.