Welcome

To Magnolia Family Dentistry
In our busy world, it can sometimes be hard to find a great dentist in Austin. We're ready to exceed your expectations.
Most dentists these days start throwing treatment recommendations at a patient before they even know their name, but I prefer to take my time and really get to know someone first. This way, I can learn what matters most to a patient when it comes to their dental care, allowing me to prioritize it at their appointments. Whether you're coming in for dental implants or because you need emergency dentistry nearby, this leads to a better experience, better dentistry, and better oral health in the long run, which gives someone plenty of reasons to smile!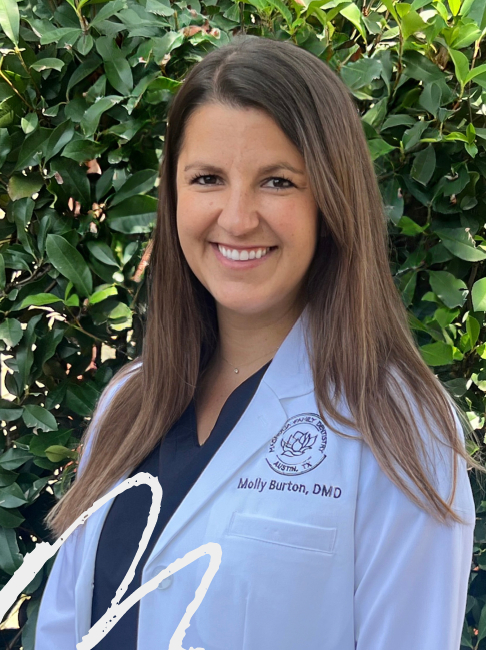 Austin's Top-Rated Dentist
A beautiful smile can
change everything.
Nothing makes Dr. Burton happier than giving a patient a smile that makes them feel confident, and after you meet her, you'll know that's quite the feat, because she's naturally a very upbeat person. Her demeanor and friendliness help put patients at ease, and then her high-quality work and dedication to perfection ensures they always walk out of our office feeling satisfied and eager to show off their results. In short, enhancing your smile with everything from modern dentures to cosmetic dentistry is a positive experience thanks to her extensive education and warm, calming nature.
Meet Dr. Burton
---
Featured Dentistry
From cleanings to smile makeovers.
Austin Dentist Reviews
We're proud of what we've created, and so are our patients.
"Emily, my dental hygienist was absolutely lovely and very knowledgeable. Dr. Burton was great and made me feel so comfortable. Will definitely go back!"
Mercedes C., Austin, TX
"Staff is very welcoming. Services were excellent. Staff is very helpful and knowledgeable. Fantastic experience going to the dentist!"
Patricia D., Austin, TX
"Very prompt friendly service. I have been going here for years and am always satisfied."
Allison B., Austin, TX
"I always feel very relaxed in the office and get such great service and dental work. They make me feel at home like I did at my grandfather's practice when I was a little girl."
Sarah C., Austin, TX
"I was recommended to Magnolia Family Dentistry by a dear and reputable friend. I had my first visit and consultation today and everyone on the staff was friendly, genuine and informative."
Andy M., Austin, TX
"I've been going to Dr. Burton for years. As an admittedly nervous dental patient, Dr. Burton, Emily, and Maureen are very accommodating and gentle... I would recommend their care to anyone looking for a dental family."
Aym A., Austin, TX
New Dental Patient Resources
Our team at Magnolia Family Dentistry loves welcoming new patients to our practice, and we will go the extra mile to make your experience a positive one. Time for your six-month dental checkup? Interested in Invisalign ? Want to learn more about sedation dentistry ? We're here to help you understand the cost, enjoy affordable care, and feel comfortable at each and every visit.
We Look Forward to Seeing You Soon!
Is it time for your visit? Then head on over to 4000 Menchaca Road in Austin, TX. Since we aren't far from I-35 and Highway 290, we are a great fit for patients from all over, including those looking for a dentist near South Lamar or a dental office near South Austin. You'll find us near Target, Radio Coffee & Beer, and TruFusion South Austin yoga studio. If you have any trouble finding us, don't hesitate to get in touch!