Dental Implants – Austin, TX
Unmatched
Stability & Strength
Are you looking for a strong and stable tooth replacement option that you can rely on? Dental implants in Austin are a modern, comprehensive treatment that rebuilds the entire structure of missing teeth from the roots upward. That way, you don't have to worry about slipping or failing prosthetics. To learn whether you're a good candidate for this procedure, contact our dental office to schedule a consultation to learn your options for tooth replacement with dental implants in Austin, TX!
Why Choose Magnolia Family Dentistry for Dental Implants?
Start-to-Finish Dental Implant Treatment
Experienced & Friendly Dental Team
Highest-Quality Dental Materials
What are Dental Implants?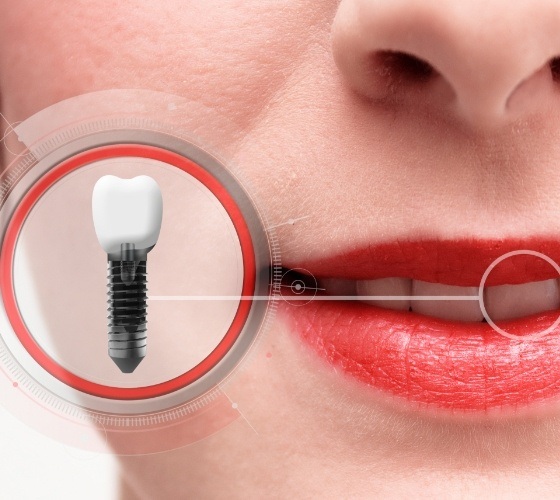 Dental implants themselves are small, titanium posts that are surgically placed below the gum line and into the jawbone to restore the root structure of missing teeth. Due to their biocompatible nature, they're able to fuse with the bone during a process called osseointegration. This provides the rest of the restoration with a strong foundation to be attached to, eliminating any need to alter surrounding teeth while preventing slipping or shifting prosthetics.
The Dental Implant Process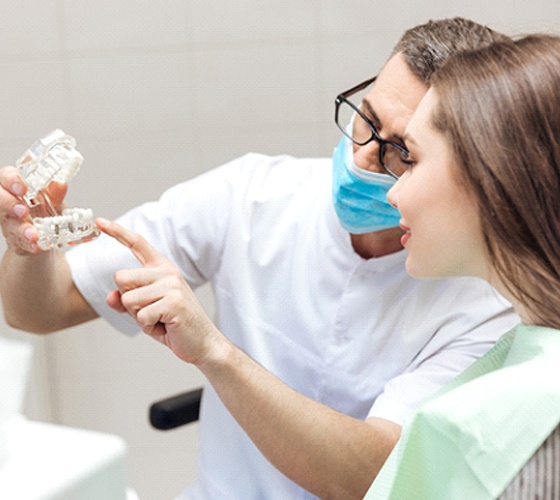 Replacing teeth with dental implants doesn't occur in a single appointment. Instead, it happens in phases, each of which play an incredibly important process for the long-term health of your new smile. Since Magnolia Family Dentistry keeps the entire process in-house, we can make your tooth replacement process that much more convenient and your fees more compact. Read on to learn more about the individual phases of treatment, so you can set expectations early.
Initial Dental Implant Consultation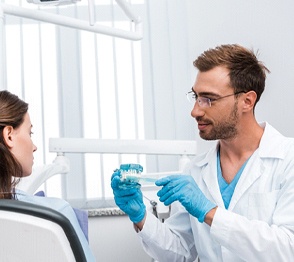 The initial consultation will consist of a thorough examination of your mouth, including X-rays. Dr. Burton will discuss your medical history with you as well as your goals before putting together a detailed treatment plan so you know what to expect from the process. He'll also take this opportunity to confirm that you are eligible to receive dental implants in the first place. For example, some patients may need to have bone grafts, gum disease therapy, or tooth extractions performed before a dental implant can be placed with confidence. If Dr. Burton determines you are able to receive a dental implant, he'll schedule you for surgery.
Dental Implant Surgery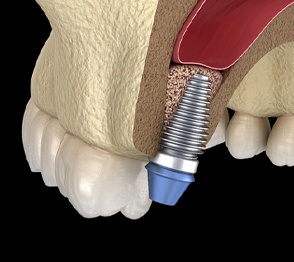 One of the benefits of our team placing dental implants in-office is that you won't have to worry about any communication gaps throughout your treatment due to working with multiple dental teams. Instead, you simply arrive at our practice the day of your surgery and we'll make sure that your mouth is fully numbed ahead of your treatment. This involves administering local anesthetic to remove any sensations that could be felt during surgery. We will also provide sedation dentistry if requested at this time.
During surgery, a small incision is made in the gum tissue. Then, a tiny hole is created so the implant can be placed. After attaching the implant, the gums are stitched closed so the implant can start to heal and slowly integrate.
Dental Implant Osseointegration & Abutment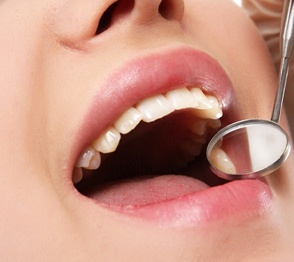 Once your implants are placed, they'll fuse with the jawbone through a process called osseointegration. This process takes about four to six months to complete. At your follow-up visit, we will capture X-rays and examine your implant to confirm that it has fully integrated, then attach small metal connector pieces called abutments to your implants. These are designed to keep the permanent restoration stable, ensuring it does not become loose or shift out of place while in use.
Delivery of Dental Implant Restoration(s)
Once your final restoration has been crafted by our dental laboratory, we'll call you back into our dental office to attach the prosthetic to the abutments. Whether you need to have a dental crown, bridge, or denture attached, you can expect it to be incredibly natural-looking and long-lasting, given that you practice oral hygiene every day and stay on top of your routine dental exams and cleanings.
Benefits of Dental Implants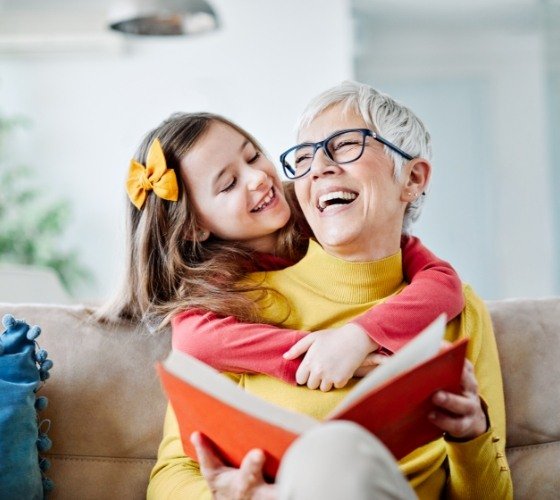 Dental implants have a variety of unique benefits that make them a preferred restorative treatment among many patients, including:
Preservation of jawbone structure
Maintain a full facial appearance by preventing sagging or hollow cheeks
Lifespan of 35+ years
Easy maintenance
Can replace any number of teeth
Improve overall oral health
Who Can Dental Implants Help?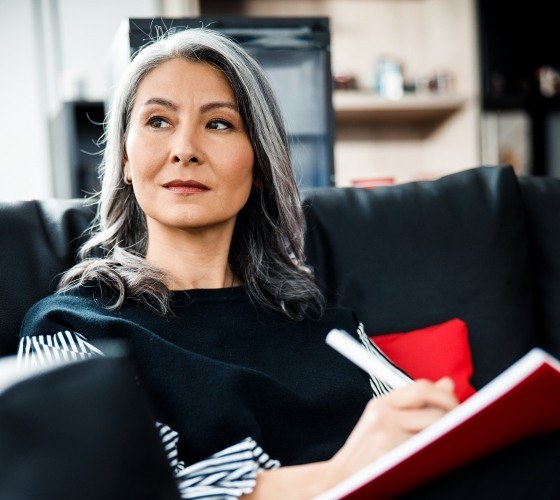 The best way to learn whether you're a candidate for dental implants is to visit our dental office for a consultation. Many patients aren't always a good candidate for this treatment right off the bat and require preparatory procedures, such as bone grafts, gum disease therapy, or a sinus lift. This is to ensure that the foundation of your new dental implants is healthy to maximize your success rate. During your consultation, we'll examine your mouth and lay out the details of your unique treatment plan.
Missing Single Tooth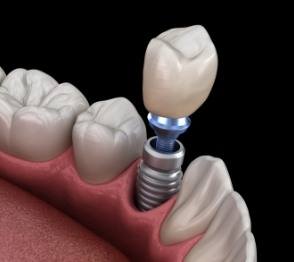 To replace one tooth, we can place a single dental implant below the gumline. Once it has fused with the jawbone, we'll attach an abutment along with a customized dental crown.
Missing Multiple Teeth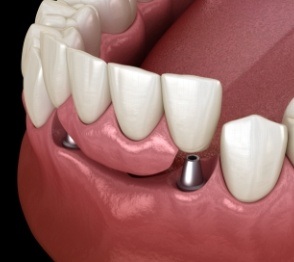 Traditional dentures require altering your natural, surrounding tooth structure. To preserve your healthy existing teeth, we can attach a dental bridge to two dental implants placed on either side of the gap in your smile.
Missing All Teeth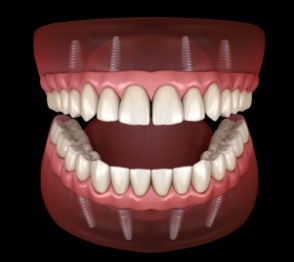 We can secure a full or partial denture to four to eight implants that are located along your jawbone. This helps it feel and function more like natural teeth, allowing you to chew all of your favorite foods.
Understanding the Cost of Dental Implants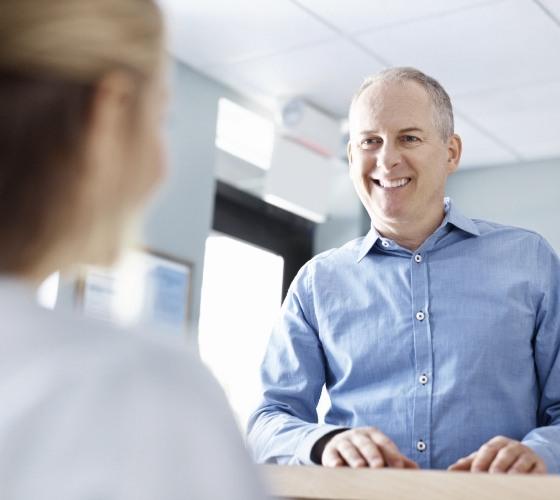 The dental implant procedure is custom-tailored to each patient's unique needs, which is why there's no set price tag attached to it. During your initial consultation, we'll speak with you about your budget and walk you through some cost-determining factors of your treatment, like how many dental implants you need to have placed. We're happy to file insurance claims on our patients' behalf to help them maximize their benefits as well.