Emergency Dentist — Austin, TX
Pain-Relieving Dental Care, Right When You Need It
Dental emergencies are some of the most stressful situations to deal with because they're difficult to be prepared for. Fortunately, with our experienced team at Magnolia Family Dentistry of Austin by your side, you can get the timely care you need. We offer same-day dental emergency appointments and welcome walk-ins to get you out of pain. Just call us as soon as you notice any out-of-the-ordinary oral discomfort or experience dental trauma, and we'll schedule an appointment for you to receive emergency dentistry in Austin, TX.
Why Choose Magnolia Family Dentistry of Austin for Emergency Dental Care?
Same-Day Emergency Dental Appointments
Experienced & Friendly Dental Team
Dental Sedation Available
How We Treat Dental Emergencies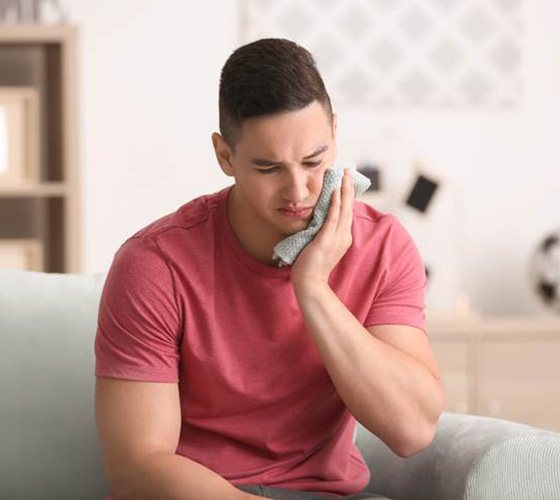 Get an appointment scheduled the same day: If you call outside of our dental office hours, just leave a message and follow the instructions on the voicemail for assistance. We'll provide you with over-the-phone first aid guidance and schedule a visit for you as soon as possible so you can get the timely care you need.
Get an emergency exam from Dr. Burton: Once you arrive, a team member will check you in and bring you to an operatory as soon as possible so Dr. Burton can examine your mouth. If needed, we may also capture digital X-rays to gain a better understanding of your emergency.
Review our findings with you one-on-one: Upon completing your exam, Dr. Burton can confidently recommend a specific treatment (or multiple services) to address your symptoms and stop any discomfort. Her plan will also include cost estimates and a basic timeline, allowing you to set expectations and make an informed decision on your future care.
Get the professional treatment you need: Our team's highest priority is getting you out of pain and completing your treatment, whether it involves dental fillings, crowns, root canal therapy, or another solution.
The Most Common Dental Emergencies
The key to handling a dental emergency is to always contact our dental office first. Our office is trained to provide relief for many types of dental emergencies, so don't wait to call even if you aren't sure you're experiencing one. Below, we've also included some helpful tips on how to ease your discomfort until you reach our dental office.
Understanding the Cost of Emergency Dentistry
Many patients have questions about the cost of emergency dentistry in Austin, and we're happy to provide you with all of the information you need! Upon arrival for treatment, Dr. Burton can give you an exact estimation of the cost of treatment after an emergency examination. However, we can still cover some important factors here that will contribute to the final price. We're also happy to review your payment options to help you easily fit the cost of emergency dentistry into your budget.
Every Dental Emergency Is Different
The cost of emergency dentistry depends on a few things. Since no two dental injuries are the same, our first goal is to provide you with the personalized treatment that you need. A toothache is treated differently than a damaged or displaced tooth, after all! Once we've completed a quick and thorough emergency exam, we'll be able to explain the pricing information for all of your options before beginning any treatment.
Does Dental Insurance Cover Dental Emergencies?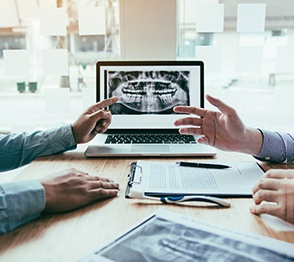 The good news is that most dental insurance plans do offer some level of coverage for emergency care. For example, many plans will pay for one emergency exam per year. Additionally, many treatments associated with emergency dentistry, including root canal therapy and dental crowns, may receive partial coverage (50% - 80%) in many cases. That said, each plan differs and we're happy to review the specifics of yours with you to ensure that you fully understand your benefits!
Other Options for Making Dental Emergencies Affordable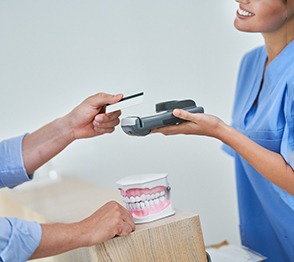 If you don't have dental insurance, you should know that it won't prevent you from receiving the emergency care your smile needs! We're proud to offer discount specials for first time visits and emergency visits alike, and we're also pleased to offer financing options through CareCredit to break the cost of a procedure into small, affordable monthly payments based on your budget. Our team is happy to assist you with figuring out the best way to pay for care—your smile might be hurting, but your wallet doesn't have to!
Taking Care of Your Smile Can Save You Money
Sometimes, patients are under the false assumption that dental care is expensive—but in actuality, it's neglecting to receive care that often leads to higher bills in the future. By not properly caring for your teeth, you're at an increased risk of developing problems like cavities, gum disease, or even a sudden dental injury. Even though dental emergencies aren't entirely preventable, you can still lower your chances of experiencing one by maintaining optimal oral health. This will help you to avoid the unexpected cost of dental care in the future!
How to Prevent Dental Emergencies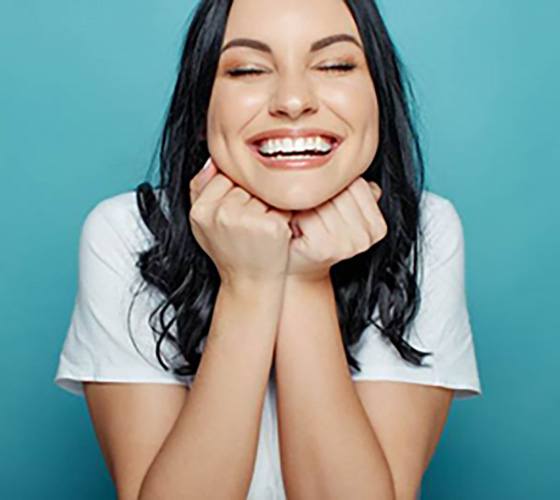 Even though not every dental emergency is avoidable, there are many steps you can take to prevent one from happening. These incidents can be stressful and frightening, making it difficult for people to think clearly at the moment. Fortunately, knowing how to protect your smile and keep it healthy can significantly lower your risk of having an emergency in the first place. With that in mind, here are a few things you can do to prevent dental emergencies in Austin.
Visit Your Dentist Every Six Months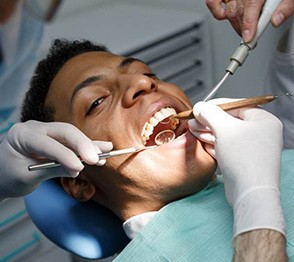 When was the last time you saw your dentist? If it's been longer than six months, you should schedule a checkup as soon as possible. Visiting your dentist twice a year for a checkup and cleaning is essential for a healthy smile. At every appointment, we'll conduct an oral examination to identify problems long before you would've noticed them on your own. By catching and treating these issues early, we can prevent them from worsening and leading to a painful dental emergency.
Maintain Good Oral Hygiene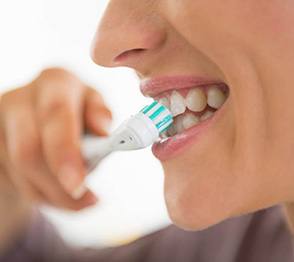 It may surprise you to learn that most dental emergencies are because of untreated decay, infection, or disease. By establishing a solid oral hygiene routine, you can ward off oral health problems and lower your risk of a dental emergency. Brushing twice a day, flossing daily, and rinsing with an antiseptic mouthwash are crucial at-home practices that can keep your mouth free of harmful bacteria. Otherwise, it can accumulate and accelerate enamel deterioration, causing infections to develop.
Stick to a Healthy Diet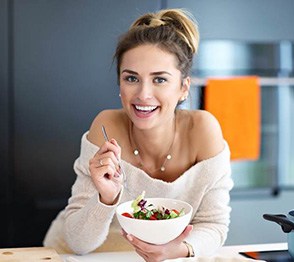 Believe it or not, your diet has a significant impact on your oral health. Sticking to a diet full of nutrient-rich foods (i.e., fruits, vegetables, lean proteins, dairy products, whole grains) can reduce your chances of developing decay, infection, or gum disease. Overconsumption of sugary, starchy, and acidic foods is known to contribute to the accumulation of harmful oral bacteria. By cutting those out of your everyday diet, you can ensure your mouth remains happy and healthy!
Wear a Mouthguard
If you regularly play sports or grind your teeth at night, ask our team about getting a custom-made oral appliance. An athletic mouthguard can protect your teeth against accidents, while a nightguard can prevent your enamel from wearing down. Otherwise, these issues can leave your pearly whites susceptible to decay, infection, and even gum disease.
Don't Use Your Teeth as Tools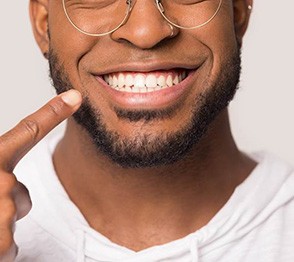 When you can't rip open a package or bottle with your hands, you might be tempted to use your teeth. However, you should avoid doing that at all costs. Using your teeth for anything other than chewing food can easily result in a dental emergency. It's always a good idea to wait for the right tool or find someone to lend you a helping hand.
Dental Emergency FAQ's
Have you ever experienced a dental emergency in Austin? If not, count your blessings because they're stressful and can happen at the most unexpected times. Fortunately, being well-informed and prepared to handle these situations will help you navigate them with ease. That's why our team at Magnolia Family Dentistry of Austin has decided to answer some of the most common questions we receive from patients about dental emergencies. If you'd prefer to speak with Dr. Burton, call our office and make an appointment today!
Will My Toothache Go Away On Its Own?
A toothache can range from being a mere annoyance to debilitating. In most cases, it will not go away on its own and will require dental attention. That's why it's always best to make an appointment with Dr. Burton when you have tooth pain, regardless of how mild it is. Since there are many possible causes for toothaches, you'll want an expert to rule them out as soon as possible. With their help, you can catch and treat underlying issues before they become a dental emergency. It's worth noting that if the pain is around the tooth, it might resolve by itself since it could be from irritation in the surrounding gum tissue.
What Does Throbbing Tooth Pain Mean?
Generally, throbbing tooth pain is a sign of an infection or inflammation within the tooth. When cracks inside the tooth allow air and bacteria to reach the sensitive inner area (or the pulp), it results in irritation and possibly even infection of the pulp nerves, causing pain. A few other reasons you may have persistent discomfort are decay, chronic teeth grinding (bruxism), and clenching.
My Chipped Tooth Doesn't Hurt. Do I Still Need to Visit?
If you ever have a chipped tooth, you should always make an appointment with a dentist immediately following the incident. You may not feel any pain, but you won't know if the inner area of the tooth (the pulp and nerves) is exposed until you get it checked out. Even though you could wait a day or two to visit your emergency dentist near South Austin, you should try to get seen as soon as possible to keep the chipped tooth from breaking further.
What is Causing My Jaw Pain?
There are several reasons why you may be experiencing jaw pain, including:
Chronic teeth grinding and clenching: These bad habits put unnecessary stress on the jaw joints, causing jaw pain.
Facial or jaw injuries: If your injuries never healed properly, it could lead to jaw pain.
TMJ disorder (TMD): A misaligned jaw can lead to TMJ disorder (TMD), which affects the joints connecting the jaw to the skull.
If you have jaw pain, you should schedule an appointment with your dentist for a diagnosis. They'll identify the source of your discomfort and create a treatment plan that provides long-term relief.